Gray skies gradually succumbed to the spirit of honor, gaiety, and remembrance at the 2011 American Indian Association of Florida, Inc. Powwow. By early afternoon the sun had emerged to cast its gentle, fall warmth on the gathering. I can't duplicate the melody of bells jangling, feathers swooping, streamers flying, drums reverberating, and singers chanting here, but I can show you what it looked like, here.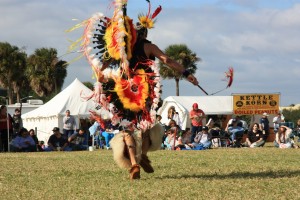 This is one of my favorites.
Speaking of gaiety, I've reached 5% of my $2,000 goal on Spot.Us! Thanks to Alan Lindsey and Kelly Beck (Tobin) for your help! Someone asked me today if it's possible to support my cause without joining Spot.Us. We're forced to put our names and email addresses and credit cards into so many questionable forms on the web; I understand the hesitation. My response is an equally hesitant yes. If you'd like to support me but want to keep it a bit more private, we can work something out. I appreciate any help that someone is willing to offer. However, by donating through Spot.Us, you're holding me accountable for completing my project. You're legitimizing my work and demonstrating a vote of confidence in my abilities as a professional journalist. This is about more than helping me pay for a night's accommodation in Santiago; this is paying me for my hard work in researching and developing the story of the inhabitants of Patagonia's Aysen Region! So, however you choose to support me, I will thank you profusely. But please do consider typing your name and spam-email-address into just one more online form. C'mon. It's easy. Do it for the Ayseninos.