My third article appeared yesterday in The Santiago Times!
I spent a two weeks over Christmas in the beautiful Futaleufu region "researching". Here I am, hard at work, getting ready to raft the famous "bridge to bridge" section of the even more famous Futaleufu River in southern Chile. Also pictured is Josh Lowry, a veteran kayaker and raft guide who owns and operates the Futaleufu Explore raft company.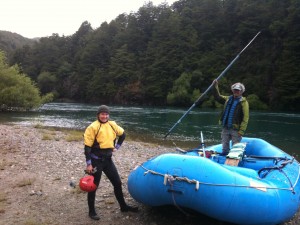 At the moment, I'm still in Puerto Natales, trying to work on an article about the forest fire in the Torres del Paine National Park. I know, Yoda said, "Do or do not. There is no try." But damnit, Yoda, it is slow going down here.
Lack of clear information, lack of organization within the park management, and my own struggle with writer's block and motivation are complicating things. Perhaps it was a bit too ambitious to tackle a second huge issue, such as Chile's dysfunctional national park management, before I had a good handle on the hydroelectric debate.
If you know me, you know I don't give up easily, even when there's a mountain of evidence to demonstrate that I've bit off more than I can chew. The ego is a powerful thing. In some of my first proposals to Spot.Us and other publications about the HidroAysen issue, I wrote, "How can Chile and the world balance conservation and development?" But I'm learning more about my own personal balance, and how difficult it can be to hear and honor the needs of my soul and body when my ego berates me for being a quitter, or pressures me to meet the demands of others before my own.
How does one recognize the difference between laziness and healing rest? Between a healthy challenge and forcing something? Between knowing when to quit and giving up because it's too hard? These are the thoughts that occupy my mind as I sit in the window seat at the Erratic Rock hostel, watching the street dogs conduct business in the park and the weather shift from sun to rain to wind to clouds every ten minutes. I worked here four years ago. It's good to be back with family, especially as I struggle my way through my latest existential mini-crisis.
Less than 20 days to reach my $2,000 goal! The good – GREAT – news is that I only need $230.50! Thank you to Anna Lawless, Kelsey Sobel, Kevin Forti, Diana Huffaker, Sean D'Ambois, Heather Thompson, Adam Clements, Anne Jander, Lydia Smith, Chelsea Gustafson, Sandy Turay, Michael Stafford, Elizabeth Dieter, Anja Togl, Sian Gaetano, Shanti Rade, Yasmin Kelsall, Sean Kupervich, and Shaina Maytum for their generous donations and taking the time to fill out a survey for free credits! Much love to all of you.